Educational Home > Buying Guide > Necklaces & Pendants
Necklaces & Pendants
Whether dressing up a casual outfit or for a fancy night on the town, a necklace is a wonderful accessory. From simple to ornate, Anjolee offers many variations of necklace styles.

Two of the most popular categories are pendants and necklaces. A diamond necklace is constructed with gold or platinum links and set with diamonds either partially or all the way around the neckline. A pendant is an adornment designed to be suspended from either a chain or cord. A pendant features a bail style, which is an arched (often oval, teardrop, or d-shaped) metal component by which the pendant hangs. It is meant to slide onto the chain rather than being soldered to it so that the pendant moves independently from the chain and is not a permanent part of the chain or cord.

Pendant styles also vary and can include solitaire, slide, and locket. Choosing the style is not the only component to buying a necklace; you should also consider the length.

NECKLACE STYLES:_______________________________________________________________________________________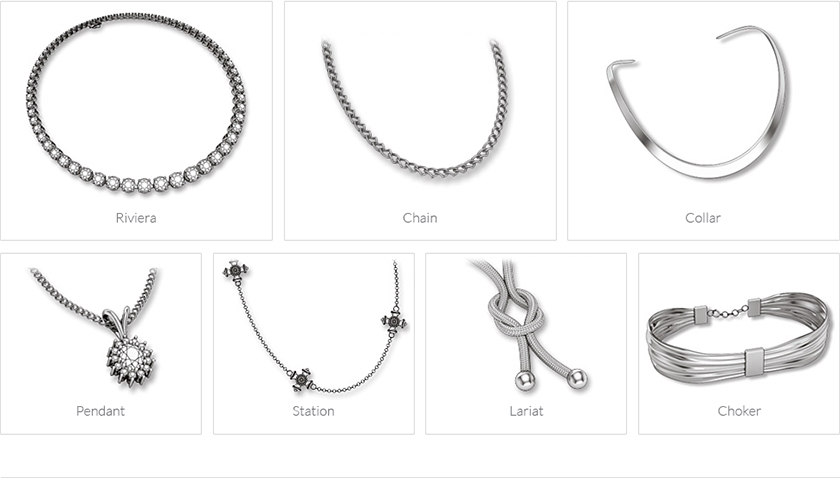 NECKLACE CATEGORIES:_________________________________________________________________________________

Journey Diamond Pendants

A diamond journey necklace is a personal piece of jewelry that can symbolize a journey through life and love. It is a great way to celebrate a major milestone such as a graduation or anniversary.

Customize your favorite design to add a touch of sparkle to any outfit. Some journey pendants have a circular design, which can represent eternal love and unity. For jewelry with an antique feel, look for journey pendants that have a beaded edge around the diamonds. If you are interested in buying a jewelry set, diamond journey pendants coordinate brilliantly with a set of diamond journey earrings.

Designer Diamond Pendants

One of the most diverse categories of pendant necklaces, our collection of designer diamond pendants is full of stunning options for any fashionable woman. This pendant collection contains many diamond and gemstone options that can be worn with both dressy and casual attire. When customizing your pendant design, take your choice of seven different metal types and select a diamond or birthstone for the perfect gift.

Three Stone Diamond Pendants

Three stone pendants represent your past, present and future as a couple and are a wonderful alternative to the classic solitaire pendant. Three stone diamond pendants feature three diamonds or gemstones set in a continuous vertical row. Typically, the stones increase in size from top to bottom.

If you are interested in buying jewelry as a set, three stone necklaces coordinate beautifully with three stone earrings or a ring. The three diamond look is very chic. If you want to mix it up, simply add your favorite gemstone for a vibrant and unique accessory.

Diamond Necklaces

A diamond tennis necklace is a stunning addition to anyone's collection. These pieces are crafted in gold or platinum and are offered in many carat weights. Under the Classic Diamond Necklace category, you will find both graduated and non-graduated styles.

A popular non-graduated style is known as the 'Riviera'. This style features similar sized diamonds all the way around the necklace. In contrast, a graduated necklace style starts with the largest stone in the center and recedes with gradually smaller diamonds. Fancy collections include the Red Carpet Diamond Necklaces which are sophisticated pieces featuring a double or triple row design and the Fashion Diamond Necklaces which are more avant-garde in style.

A diamond necklace is a great investment, so be sure to consider whether your necklace should be for all events or something reserved for special occasions.

If going for less formal, look at a diamond pendant necklace. These pendants come in a variety of styles and price points.

For a more formal look, a detailed diamond necklace, a glamorous red carpet necklace, or classic diamond strand necklace are lovely options. These diamond strand necklaces are set in shimmery gold or platinum and surround the neck.


NECKLACE LENGTH:_______________________________________________________________________________________

A pendant necklace comes with a chain which matches in metal type. The standard chain length for a pendant is 18", however, you can also order a 16", 17" or 18" chain.

If you are ordering a diamond necklace, it should hit the center of your neckline. The standard length for diamond necklaces is 16" however, the length can be adjusted simply by adding small links to the back end of the necklace. In general, the three main categories for diamond necklace lengths are: the 'standard' length (16"), the 'princess' length (18"), and the 'opera' length (24").

Special length requests should be emailed to service@anjolee.com.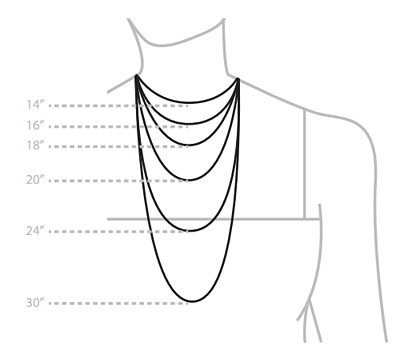 BAIL STYLES:______________________________________________________________________________________________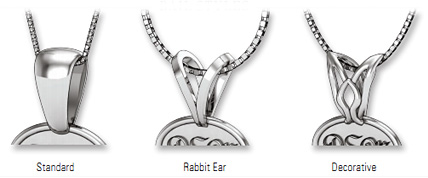 PENDANT STYLES:_________________________________________________________________________________________